·
R.I.P. Sept. 8, 2018 Senior Member 2 Gol
Discussion Starter
·
#1
·
I'm having a couple of problems with fitting my replacement fenders on my truck:
1. Driver's side body line/crease not lining up with door
The fender fits properly at the top and the bottom and the door crease matches up correctly with crease in the cab. The picture makes the crease on the fender look wavy, but it's arrow straight.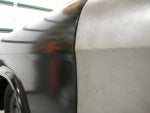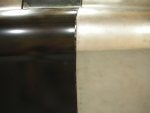 2. Passenger side fender to hood gap is correct at the cowl and near headlight but in the middle it bows up and away from hood. Maybe I need to slice a pie cut out of the fender flange to bring it in? The other side has this same problem, not as bad.
Any suggestions or advice is greatly appreciated.