One difference that doesn't matter in your scenario is the sleeve that supports the brake pedal looks like this when a clutch pedal is installed.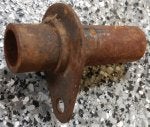 For an automatic without the clutch pedal, the left part of the sleeve may not be as long, and it may not be finished inside to accept the clutch pedal bushings.
When adding a clutch pedal, the sleeve has to be changed. When removing a clutch pedal, it can be left as is.