Discussion Starter
·
#1
·
Has anyone tried the new 25 gal gas tank from cpp yet.
I just saw it on ebay, says that it will fit even with the spare tire well and not hang below car etc.
I am thinking of buying one for my 57.
I was wondering if my currently fuel sending unit will work, or does it need a special unit etc.
Otis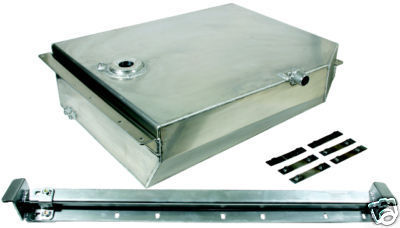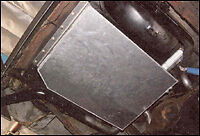 Here is the info from the ebay add
http://cgi.ebay.com/ebaymotors/1955...ptZMotorsQ5fCarQ5fTruckQ5fPartsQ5fAccessories
WOW GUYS HERE IS THE GAS TANK THE WHOLE WORLD HAS BEEN TALKING ABOUT! A 25 GALLON ALUMINUM GAS TANK FOR YOUR 55-56-57 Chevy Fullsize Car.NOW YOU CAN GO ANYWHERE YOU WANT WITH THE HELP FROM CPP!(PART#5557AGT-25)
Here's the scenario: You've been wrenching on your 1955-57 Chevy all winter long with the goal to long-haul the Hot Rod Power Tour. The A/C is charge, cup holders have been installed, and your rims are wrapped in fresh rubber. Your only concern is that the 572 big-block under the hood get 15 mpg on the highway. This means you'll have to stop for gas every 240 miles, and you just know that fill-up time will happen when its least convenient. You've thought about dropping a bigger tank,but you don't want to cut your trunk floor, lose your spare tire or have some gigantic tank hanging down under your ride. At Classi Performance we came up with a 25 gallon aluminum tank to replace the 16 gallon factory unit. It looks better, and more important, it installs without having to violate the factory sheetmetal of your classic Chevy. For the guy knocking down 15 mpg, it will up his range from 240 to 375 miles and that adds alot of flexibility to your cruising plans. I addes a few pics from the magazine story and as you can tell the tank fits between the rails next to the spare tire well and the flowmaster exhaust system.The spare tire well, rear bumper, and rear quarters are all lower than the tank so these tank cannot be seen once put back on the ground. The tank is fully baffled, made from 1/8-inch thick aluminum and mounts on a beefy 3/16-inch flange and all tanks are pressure tested before being shipped. These tanks have the provisions for fuel injection by simply removing a plug from the tank if you opt to go this route.
(Special Price For eBay Customers Only !)
This is a brand new tank is on the shelf and ready to ship. Don't miss out. This is a Great opportunity to save some $ on our CPP Exclusive Gas Tank. Low eBay store price! Item exactly as pictured