Discussion Starter
·
#1
·
Hello all.
For my first post I'll tell you a little about myself and my affiliation with 55-57 Chevrolet's.
My name is Larry McCarley.
I live in California work at China Lake. Love to build 1/48th scale model, mostly jet, aircraft. Still love cars though as much as I used to. Building cars/trucks is a lot like building scale models but it do cost a lot more.
Grew up in Trona Ca. and moved to my present location in 1988.
Throughout my early years always loved 55-57's and never really liked calling them "Tri-fives" but I understand why they have generally been called that. I've owned a few and here's how that goes.
1973 my brother bought for me my first car… 1957 2 door hardtop that someone (actually my current neighbor across the street) painted with a few spray cans; Red! Flat red to be exact. My brother paid… $50.00 for this car. $50.00 bucks! Can you believe that? Anyhoo; no engine, no trans, but it was in great shape as far as the body was concerned. I'll bet it lived in California all its life and little to no rust where rust usually forms on these "Tri-five's". I spent a year finding enough money to build my first engine… I found a 1957 283 that I put 11:1 piston's in a rather mild cam and a set power pack heads, some "Jardine" headers (they just sounded the best of any I had) until one day a wrist pin came loose in the rod end and scored the bore. Drat…! Our shop teacher at the time sold me a later model 283 for $50.00, (hmmmm as much as my brother paid for the car) and I saved enough and borrowed enough to build another engine. Still with the original bore I bought; a "Speed-o-Motive" kit with 12:1, don't laugh, cast pistons. I also got the coolest Sig Erson 490 lift 292 duration hydraulic cam to put in it… That cam was flippin great! Nice loopy idle and when I got it to 3000rpm it came alive and rev'd to 7000rpm like that 3" stroke was meant to do, really liked that cam!
Apparently there was something screwy with this cars title that I was ignorant about. I got pulled over one night by the local Highway Patrol for something or other and he told me he had to check the VIN now. It was something new I guess, I'd never had an officer do that before and he found that the VIN didn't match the Plates… Boy was I in trouble now. He asked if I had another 57 anywhere and I said; "yep there is one at my house." By that time the local Sherriff pulled up and shook his head at me; he stopped me a few times too… Long story longer, the Sherriff went to investigate and told the HP that; "it didn't match that one either." So, I was told to take that car home and park it till I could get it straightened out. Found out much latter it was junked and it would have been easy to straighten out, might still have it but I was a kid and didn't know any better so I started looking for another car.
BTW, that other 57 at my house the Sherriff went to look over was a 1957 hard top too that was all original but the engine was gone. Still had a Powerglide it was White and to be perfectly honest was in better shape than my Multi-colored 57 that I just had to park! Guess how much that car cost me in 1975… I paid $75.00 for it. My goodness what was wrong with these people didn't they know these things would be worth a mint latter on down the road….? Oh after I parked my first car and stripped it, it sat in my dad's hanger at the Trona airport for the next 7 years till I traded it for a 1969 El Camino. What an idiot…I was.
I found my next car from a former class mate of mine and bought that 1956 210 hardtop (?) without an engine and trans for… $35.00! Same kinda technique was used to apply the paint! Flippin thing was this god-awful FLAT blue. It looked like they used house paint to paint it. Anyhoo I swapped all my parts to it and got it registered (this one had a good title with it) and away I went… See I know why they call them Tri'Fives… cause all the parts generally fit each car! D'OH! LOL! I have a picture of it that you can see after I sandblasted it and primered it. I regret having blasted it although it had at least 5 layers of paint on it. A dark emerald metallic green was the nicest color though and I wish I'd just stripped that house paint off.
At this stage I'd made a tilt front end out of it and while most convenient was really a bad thing to do. Also this is before the Tunnel Ram made it to the 283. This car had; 283, nice ported and polished (by me) 2.02 heads, same Erson cam, same Jardine headers (I had to replace tubes on them but they just sounded better than any I'd ever tried), Borg-Warner cast Iron T-10, Mr. Gasket vertical gate shifter (later replaced with a Hurst Super shifter) 4.56:1 positraction read end, home spun traction bars, you can see them in the picture although I tucked them up closer to the springs later, and a host of other goodies here and there but I can't recall now what exactly they were. This car was absolutely a California car and had no rust… Folded sheetmetal by the left rear wheel though had to be fixed but I did manage that one with little effort. I tuned and messed with that stock bore 283 until I managed at the drag strip to pull a high 13 second time in the ¼ mile that was pretty impressive for that small of engine but it sure was fun to drive. I scattered that engine though on a trip to our local ¼ mile track by the swimming pool when an intake valve broke off and it pulverized the cast piston… It sounded rather funny when it happened as all those little cast bits and pieces when out the exhaust. I can still hear it to this day. This car was great until I lost interest and sold it. I sold it for $800.00… This was and still is my favorite "Tri-Five." After I sold it I drove my dad's 66 Chevy van till I saw and fell for a 68 Corv-8! Now that was the fastest car I ever owned. 1970 and a ½ LT-1 375 horse 350 that SCREAMED! Still have the lower end and the Valve covers that are in my 1972 C-10.
Lots of cars in betwixed but that about did it for 55-57's until now. My brother had a 55 210 from 1973 and he gave it to me to actually someday finish. Well A divorce ensued from 2003 till 2007 so my interests changed some and so did my $$$ situation. My $$$ is still low but I finally got my 55 back home and that is what I'm getting started on now. Here are a couple pictures of what it looked like in 1974 or 76 and then what it looks like now. Oh we had a couple 55 210's and we took parts from both to put in this one. It's in somewhat rough shape but overall not too bad. The Rear of the Trunk pas is rusted out as is the tail pad and will need replacing but I don't know anything else that will need replacing.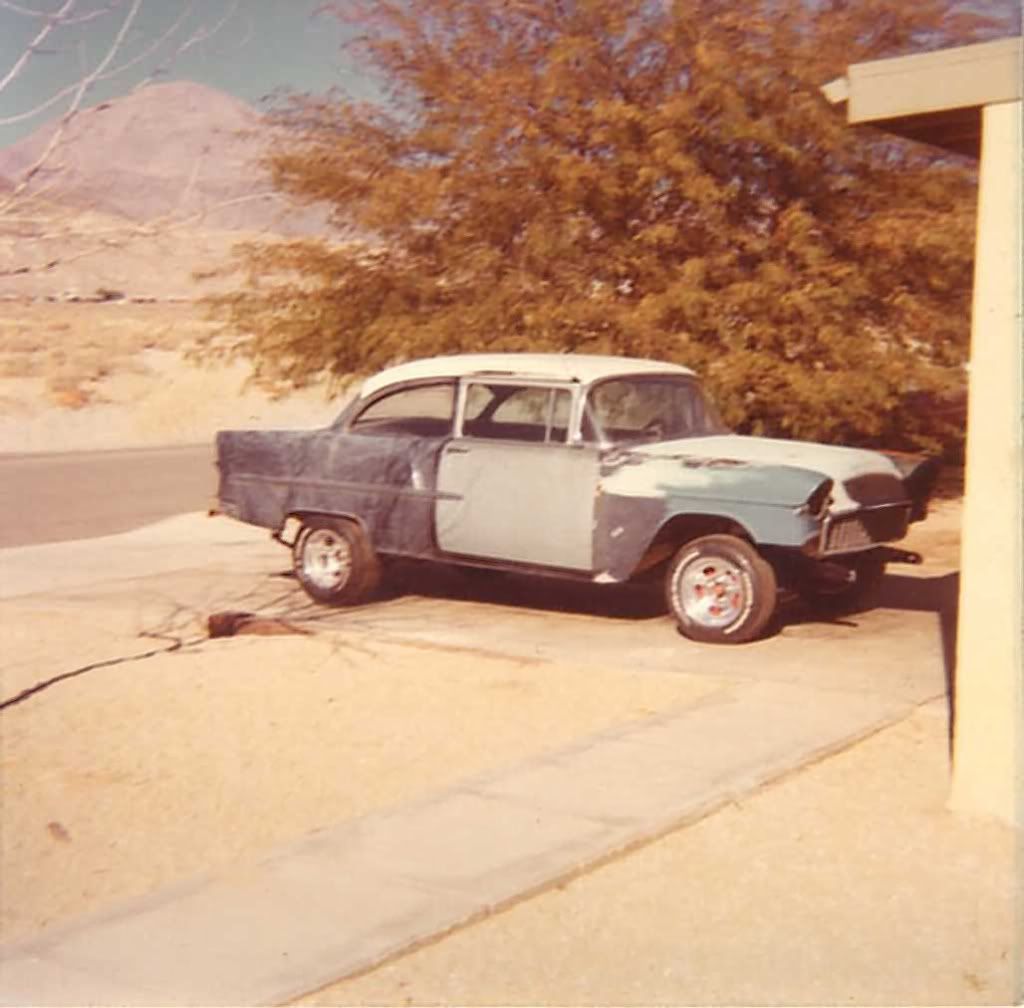 Well that was a long introduction and I hope it's not too boring but it was fun reliving that again. I anticipate at least a couple years work till it is ready to see the street again so I'll updated and get used to the "Tri-Five" site so I can post more in progress pictures when I have some…
Oh yeah, I like photography too and I take LOTS better pictures than I use too...
Cheers
Larry McCarley