My Father (John) bought this car from in Alabama, the previous owner had started a frame off resto, Dad bought the car after the car was taken off the rotisserie with the frame finished in black paint, with the body set on the frame. The car arrived at the house with the engine in the front seat and the trans in the back seat, the car was many different shades of primer, but it was complete with the numbers matching. This was back in 1992, Dad did the resto himself, it took him 2 years to complete and a buddy Gary did the paint. I remember wet sanding the car with 2000 grit cloth, my shoulder still hurts lol.
Mom and Dad toured this car all around North America, it has visited 48 States of the USA, and most Provinces in Canada. The car was judged many times recieving its Platinum Certificate of the Contemporary class many times. Moms basement is FILLED with trophys and awards. The car was featured in the 1997 Snap-On Tools calendar, it was in the month of March with all the other Turquoise vehicles. Selection for 1997's calendar included Mexico, USA, Canada and Europe. The car was also featured by GM in a Superbowl commercial for the 1996 Cavalier. A to B in 40 years was the motto of the commercial.
Recently the 57 was in an article of Canadian Hotrods Feb 2013. The article talks about how Dad had a 1957 2 door hardtop "back in the day" that has the rear window filled with sheetmetal, but had a diamond cut out and filled with glass. It was known as the "diamondback" 57 Chev. It has a crate 1965 "fuelie headed" 365hp L-76 327 installed with a 4 barrel carb, but in a grudge match against Jim Oddy a dual 4 bbl intake was installed. Dad beat Jim Oddy withthe dual 4 bbl intake, and 5.13 rear gears which allowed the car to trap at 6700rpm. The car also had a crate 4 speed trans and new rear all 3 items were bought from Elliot Bros. Chevrolet here in Woodstock Ont. This car had a 50's Chev truck straight front axle for that Pro Gasser look.
Dad's last car build was to creat a clone of the old "Diamondback" 57 Chev. The original "diamondback" was located and purchased, of course the L-76 was long gone, a 307 in its place. The original "Diamondback" was in rough shape, so a 2 door hardtop was located and purchased to be transformed into a "Diamondback" clone. The clone was finished, straight front axle and all. There are a few pics of Dad's current 57 Belair, the original "Diamondback" car, and the "clone" all finished in Tropical Turquoise, all sitting there together for the last time.
The owner(Al) of the "clone" hired out the install of a Ford 9" rear, and Chev crate 383. He also sold the original "Diamondback" to another local business owner(Ron), who is also building a 2nd "Diamondback" clone.
It should be noted that (Al) also located and bought another of Dad's old projects, a 1930 Model T coupe. I remember riding with my Brother in the rumble seat of that car many years ago when we were kids. The owner installed a fuel cell in place of the rumble seat, installed a ZZ502 crate, 4 link 9" rear with 4.33 gears, and used a Horton frame during the build. I had the honour of firing up the 502 and backing the car, now a brilliant yellow, off the tilt load, into Dad's shop. Its 1st drive under BBC power.
In the Feb 2013 copy of Canadian Hotrods, there is a picture of my Mom and Dad sitting in the driverside door sill of the "clone". After the author Mike Bayliss took pics of the "Diamondback" and it's "clone" but before the release of the Feb edition, Dad passed away on August 5th, 2012 at the age of 69.
During the construction of the "clone" Dad was experiencing severe foot pain. A tiny spot was growing larger day by day, but Dad said he would build the car, and he was a man of his word, the "clone" must be finished. When the "clone" was finished, and loaded onto the trailer by it's owner, only a few days later, Dad had his left leg amputated below the knee. His lust of working on cars wouldnt be impeded by such a circumstance. While waiting for the scar to heal, Dad welded himself a metal prosthetic leg/crutch device, leather strapping attached above his knee and kept his bodyweight off the stump, and the metal frame has a pivot at his hip, and his weight was supported under his arm upon a wooden block. While this device did work, it wasnt ideal and once he was eventually fitted with a proper prosthetic, he was able to set aside his crutch like device.
Dad suffered from great pain at his incision and 2 years later, in early 2012 had a minor surgury to remove the offending nerve, this was very succesful. After a few weeks of healing, I drove my Dad to the local steel yard to buy some lengths of flatbar so he could build a 2nd version of his crutch device. He then had a scheduled surgury to improve bloodflow to his opposite good leg. After coming home from the hospital in July, Dad was rushed to hospital, 12 days later on Aug 5th 2012 after many strokes and heart attacks, he passed away with my Mom at his side, and holding his hand. We never got to build the 2nd version of his homebuilt prosthetic. At his funeral I drove the 57 from the church to the cemetary, Dad's ashes were resting between myself and Mom, it was Dad's last ride. There were about 50 classic cars behind us, and yes, the "clone" was in the procession, and the local police shut down the route for us and stood at attention, saluting as we drove passed each of them, it was a moving experience.
This is the "Diamondback" 2 door hardtop that Dad built back in the 60's.
Here is a seamless frame that is in my inventory that might be installed under Diamondback.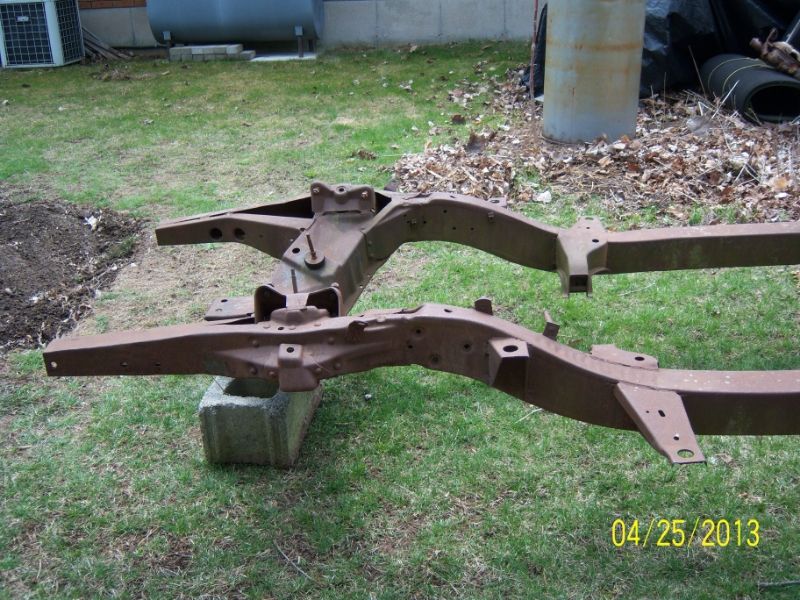 The car now has a fresh 2 piece frame installed, NOS front fenders. Those tires are new BFGoodrich bias ply whitewalls mounted on 57 Chev wheels. There is about a car and a half of internal external glass/interior/stainess/aluminum/parts included in the deal. It is in much better condition than when it was at Dad's place in 2008-9 when Dad built the 1st clone for Mr. Franklin. Clone #1 now sports a ZZ383 425hp/440 lb/ft torque with a 6 speed manual trans and Ford 9" rear installed by Mr Wright of Sweaburg. The original Diamondback was to be restored, but there were issues with manpower and this project abandoned by Mr. Hall. Mr. Hall stripped Diamondback of her 50's truck straight front axlle and installed it into Clone #2, which has a 502 crate engine, diamondback rear window, and the same hoodscoop that Dad originally installed in Diamondback. Diamondback as shown above has an original front suspension for now.
I would like to publicly thank Mr Hall for graciously returning "Diamondback" aka back to my family. He has MUCH work and money into this project, for him to "donate" it back to the family is something that I still find hard to understand. Also thanks to his son Rob Hall for helping me load her onto the trailer and loading my pickups box full of 1957 Chev parts, so much so, that the truck was riding on the suspension stops the whole ride home. These parts that the Hall's gave us, and the "inventory" of NOS parts that Dad left after his passing, the original "Diamondback" 57 Chev. will again roam Dundas Street, Woodstock. I dont have the skillset that my Dad did, but with some help, I'll be able to get something together that will honour my Dad.
So that is my introduction, sorry for the book, I just wanted to explain the history of the 57, and how I am now honoured to keep the car in great shape, and carry on my Dad's tradition of enjoying such a great example of a 1957 Belair.
I hope to share some knowledge, ask/answer some questions, and learn some things during my time here.
peace
Hog