Discussion Starter
•
#1
•
Sorry... it's a Ford. :happy0030:
1956 Ford F500. The seller is taking the bed/crane off, and I'm planning on maybe running the stock frame for now; and maybe find a 70s 4x4 frame sometime down the road and a stepside bed if I can find a deal.
The seller is moving to Oregon, and wont be back til Sunday. Then he's removing the box/bed, and I'll pick it up on Wednesday.
It has either a 360 or a 390 the seller says, I'll have to run the numbers myself. It has a 4spd behind that, and an auxilary 3spd behind the 4spd! It has a 5.38 rear axle!
The cab appears to be in pretty decent condition, and the interior is actually kind of nice! Filthy, but in decent shape! More importantly, it appears to be almost untouched.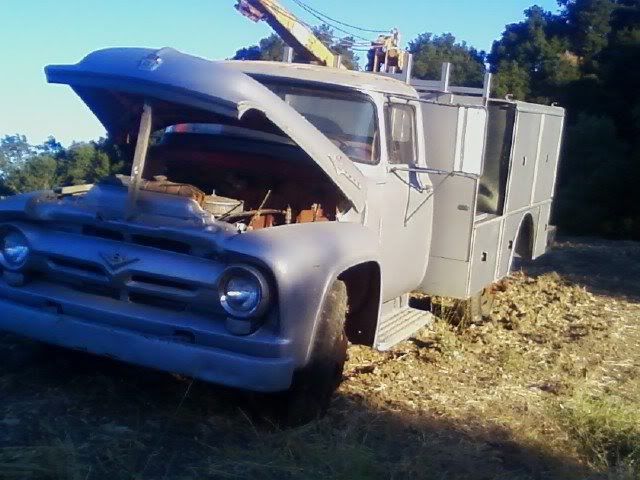 I ran across it in Craigslist... and I'll be honest, I like this model a lot... but it was the price that locked it in for me! My wife said we should get it! And that she wants to help work on it!
For now, I plan on hosing off the dirt, and getting the engine to fire up. Then just drive it around and pimp it Sanford style
Guess how much?... $300!.. I couldn't let it go.
arty0031: