1956 Belair Sedan, Resto-Mod, Many Upgrades
Like many of you...I have battled this issue longer than I care to remember. BUT...I did remember what a guy told me years ago when I worked at a Engine Rebuilder and Crankshaft Works in Miami Fla. after going through every new type gasket (rubber, Rubber with metal, Cork with rubber, no seal all RTV)! The plain ole cork works best!
1. The valve cover sealing area must be clean and flat.
2. Wipe the sealing area down with lacquer thinner and dried.
3. Use 1/4 bolts to keep the gasket in place while high tack dries.
4. Apply high tack to both the cover and the gasket...allow to hold fast.
5. Apply #2 Non-hardening sealer under the edge of the cork gasket where there is a gap between the valve cover and the cork. Allow to get tacky dry.
6. Lastly...apply some wheel bearing grease to the cork to head mating area only, then install your cover. It will allow the valve cover to "find" its fit by sliding around on the head without messing up the cork gasket.
7. All you Armstrong guys...you do NOT need to crank down on the bolts or wing nuts!..just snug them down in crisscross fashion.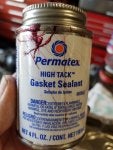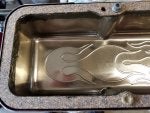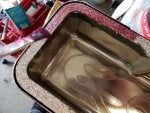 Mine have stopped that leaking...hope it helps all youse guys and gals with these Old Cars!
Rods56