Discussion Starter
·
#1
·
Wow, when I was younger it was so easy to focus on whatever needed to be done… Too bad I wasn't thinking about the "big picture" later on.
Here are a few shots of the "project" I have started on my 1955 210 that's been with my family since 1973. My brother gave this to me a few years ago as my previous post told and I will be repairing what has been neglected from then and beyond.
The cool thing is where it sits right now; much to my wife's chagrin, the Garage!
I couldn't see how the heck to take off the windshield stainless in the sun...so I moved it in the garage! I might add that the instructions on the Tri-Site about "HOW to remove the trim" didn't work for me. While I didn't mess up the trim I surely could have with my frustration…. I did however have patience and removed the bottom trim around the windshield and all is as good, with the trim, as it was when I started.
So a few things to tackle right off the bat will be the Tail-pan/Brace and last 2" of the trunk floor. I say last 2" because I can't see that it has traveled more than that. Actually right at the bend would be sufficient. However I haven't had it blasted off yet so there may be WAY more oxidized than I think there is now. Maybe yous guy's have a better idea, I can't know… I did ask Robert about Epoxy primers and how he apply's them along with if they are all the same and have come to the conclusion that I will be using Martin Senour automotive line from here on out. K-36 is good stuff though, my 72 C10 did like it…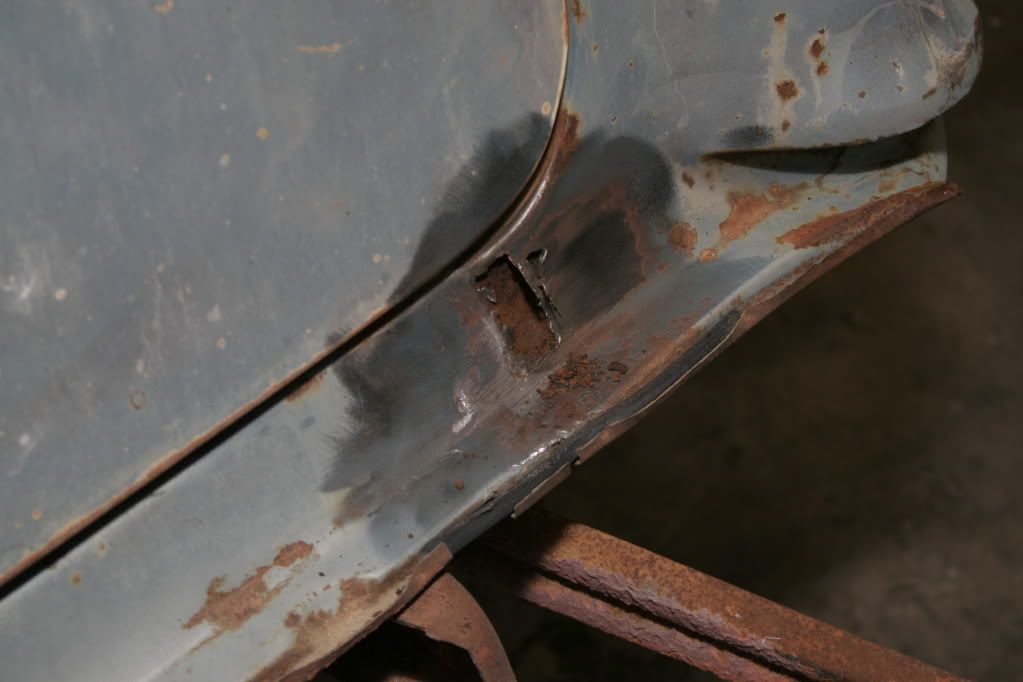 One more problem I really want to know how to fix is my hood… The danged "X" let kids, a dog, or herself jump on it and flippin Cracked it and oil-canned it pretty bad or at least I think it is.
So; I have my wife's approval, my daughter thinks she's gonna drive it to school when she get her license, HAHAHAHAHAHAHAHAHAHA and I have half a plan. I pretty much know how to do this; one under my control so far and with enough money I'll be drivin in about 20 years! HAHAHAHA. Hopefully sooner than that…
As soon as I uncover more I'll be a reportin promptly!
Cheers
Larry McCarley