Discussion Starter
·
#1
·
Hey.
You can call me Slade
(...but if anyone here was in the Fresno Area Classic Chevy Club in the mid 90s, you'll remember me as Dan Bennett, or probably "Ron's annoying son..."
but hopefully you'll remember the cars more
)
Anyway... I'm 21, loved these things a while... ever since my dad dragged this hulk into the garage when I was 5 actually.
uhh ignore the most ugly 80s pants in the world that I'm wearing.
But it looks more like this now (ahem ignore the low tire
)
kinda wish my dad hadn't commandeered the 15" steel wheels for use in his 59 vette
looking to get Halibrands, or Ansen slots. 350, 4 on the floor, the usual... I like the 150. It was my first car when I was 16. Somehow I didn't wreck it, and here it is. It's my seasonal daily driver (no AC+desert= no fun)
My dad bought this one when I was 8... and it really isn't worth much without before pictures I'll tell you that. was a bit of a wreck... declined into a wrecklike state over the last few years, but work in the last week or so has reversed that. My theory is that the car is at the moment held together by nothing more than goo, and the more the car is being used, the more that goo melts and things go down. but gotta love the color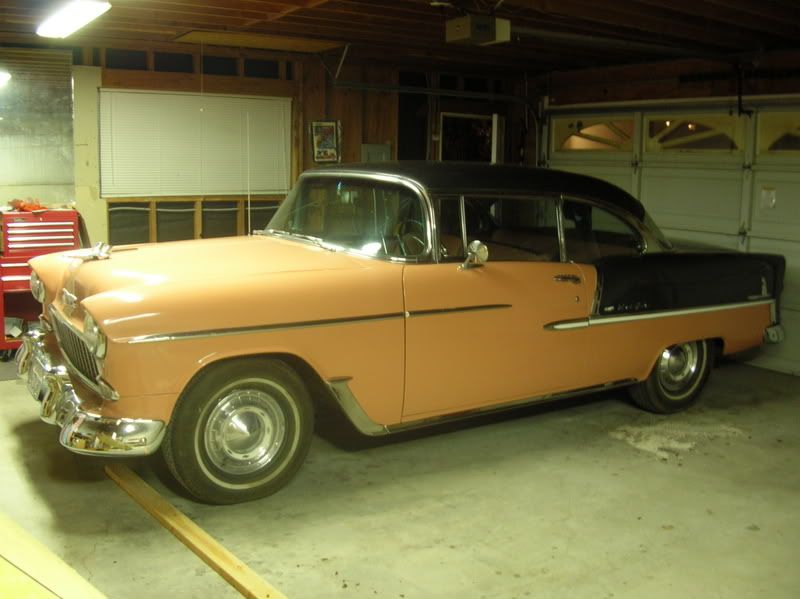 Currently a bit immobile, as the water jacket exploded earlier today, right after we rebuilt most of the braking system... gotta get on that tommorow. 350 again, automatic trans of some sort... AC, that doesn't work too well
)
Anyway. Love these old cars... Been contemplating converting them to TPI and disc brakes, just because that'll make em better for the everyday thing. Which is kind of the goal. But I don't expect any of that anytime soon...
Semi thinking about another tri five project to stick with an LT1 I rashly bought in high school... but money might be an obstacle, heh
secret, my true love is British sports cars none of you probably care about
but my first love is the tri five
looking forward to causing hopefully not too much ruckus
Slade