We had a thread earlier on hating spiders... well there are other 'things' to consider... :scared0016:
I was just watching Animal Planet and did a Google search and came across a bunch of bugs.
First the
Bullet Ant
.
It's a full inch long, it lives in trees and thus can and will fall on you to scare you away from its hive--the one you didn't know was there,
because it's in a tree. Before it does this, it shrieks at you. This ant, you see, can shriek.
It's called a Bullet Ant because its 'unusually severe' sting feels like getting shot.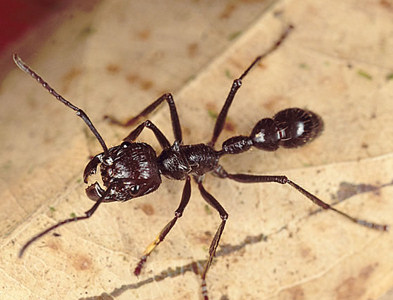 and a short clip
[VIDEO]
[/VIDEO]
As if that wasn't enough look at this
Japanese Giant Hornet
!!
It's the size of your thumb and it can spray flesh-melting poison. Imagine, what a terrible thing a three-inch acid-shooting hornet would be?
The poison also has a pheromone cocktail in it that'll call every hornet in the hive to come over and sting you until you are no longer alive
Think you can outrun it? It can fly 50 miles in a day. It'd be nice to say something reassuring at this point,
like "Don't worry, they only live on top of really tall mountains where nobody wants to live," but no, they live all over the place, including outside Tokyo.
Forty people die like that every year, each of them horribly.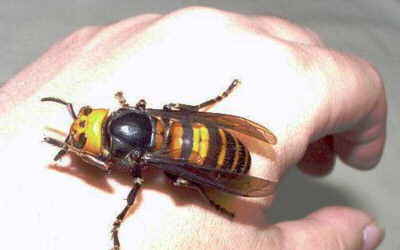 and a short clip that shows an attack on a beehive
[VIDEO]
[/VIDEO]
Last but not least the
The Human Bot Fly
It lays its eggs on a horsefly or a mosquito, something that will attempt to land on a human. This carrier finds a human and lands on him or her.
The eggs rub off onto the human, whose body heat hatches the eggs.
The larvae drop onto the skin and burrow right in. Where they live. Under your skin. Eating.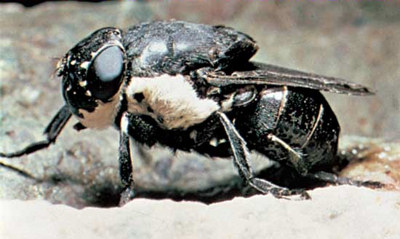 a clip here showing the removal of a larva, this is really brutal, please be warned!!!
http://www.youtube.com/watch?v=mnNAeVLlY8w
Don't say I didn't warn you... :scared0016: